PhD Wmatrix
projects
publications
publications (university portal)
sci-fi
genealogy
Picasa photo albums
Infolab gallery
recycling


Contact details:
Room B50,
School of Computing and Communications,
Infolab21, South Drive,
Lancaster University,
Lancaster,
LA1 4WA.
Tel: +44 1524 510357
Fax: +44 1524 510492

Paul Rayson
Email: p.rayson@lancaster.ac.uk
(I try to respond to all emails within 2/3 days unless I'm out of the office. If you need an immediate answer, it is best to phone me!!)

I am director of the UCREL research centre and a senior lecturer in the School of Computing and Communications (previously the Computing Department), in the Infolab21 building at Lancaster University in Lancaster, UK. My research interests are based on applications of corpus-based natural language processing to address significant challenges in a number of different areas. I am a member of the CREME (Corpus Research in Early Modern English) interdisciplinary research group. I'm also a member of the Investigative Expertise Unit (IEU) based in the Psychology Department and the multidisciplinary centre Security Lancaster. I am the Director of International Teaching Partnerships in the Faculty of Science and Technology.

New stuff:

PhD supervision:
I'm currently supervising five students: Stephen Wattam (joint with Maths and Stats, co-supervised with Damon Berridge), Matt Edwards (co-supervised with Awais Rashid), Katharina MacInnes and Sheryl Prentice (both joint with Psychology, co-supervised with Paul Taylor), and John Vidler (co-supervised by Andrew Scott).
Four of my students have passed their vivas: Alistair Baron (spelling variation in historical corpora); Eddie Bell; Ricardo Gacitua (OntoLancs: an evaluation framework for ontology learning by ensemble methods); Patrick Tschorn (Incremental inductive logic programming for learning from annotated corpora)
Teaching: (2012-13)

Research:

It's all me, me, me ...
Software:
USAS (UCREL semantic analysis system)
Wmatrix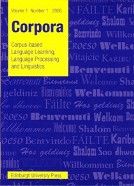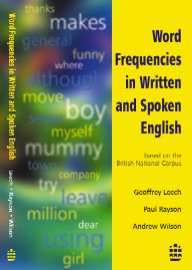 English word frequency lists
English POS tagging (10000 words)
Web interface to BNC index
Log-likelihood calculator